The Engineer is a soft-spoken, amiable Texan with an interest in all things mechanical. He specializes in constructing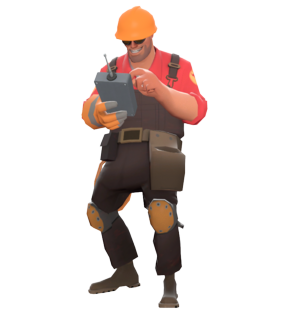 and maintaining Buildings that provide support to his team, rather than fighting at the front lines, making him the most suitable for defense. The Engineer's various gadgets include the Sentry Gun, an automated turret that fires at any enemy in range, the Dispenser, a device that restores the health and ammunition of nearby teammates, and Teleporters that quickly transport players from point A to point B.
Because the Engineer's ingenious devices are under constant threat from explosives and devious enemy Spies, a good Engineer must keep his gear under a watchful eye and under repair with his Wrench at all times. When the Engineer needs to get his hands dirty, his trio of generic yet capable weapons, along with the assistance of his helpful hardware, make him more than capable of holding his own in a fight. If need be, the Engineer can even pick up and haul constructed buildings to redeploy them in more favorable locations. While usually viewed as a defensive class, the Engineer has a selection of high-tech weapons that allow him to destroy projectiles or to build faster-deploying, more damaging Sentry Guns, which give him great utility at the front lines too. His Teleporters are also a key point in any offensive team's success, allowing slower, heavier classes to reach the frontlines quicker.
Name: Dell Conagher
Location of origin:Bee Cave, Texas, USA
Job: Area Denial
Motto: "I like to make things"